BleachBit quickly frees disk space, removes hidden junk, and easily guards your privacy. Erase cache, delete cookies, clear Internet history, remove unused localizations, shred logs, and delete temporary files. Designed for Linux and Windows systems, it wipes clean 70 applications including Firefox, Internet Explorer, Flash, Google Chrome, Opera, Safari, Adobe Reader, APT, and more.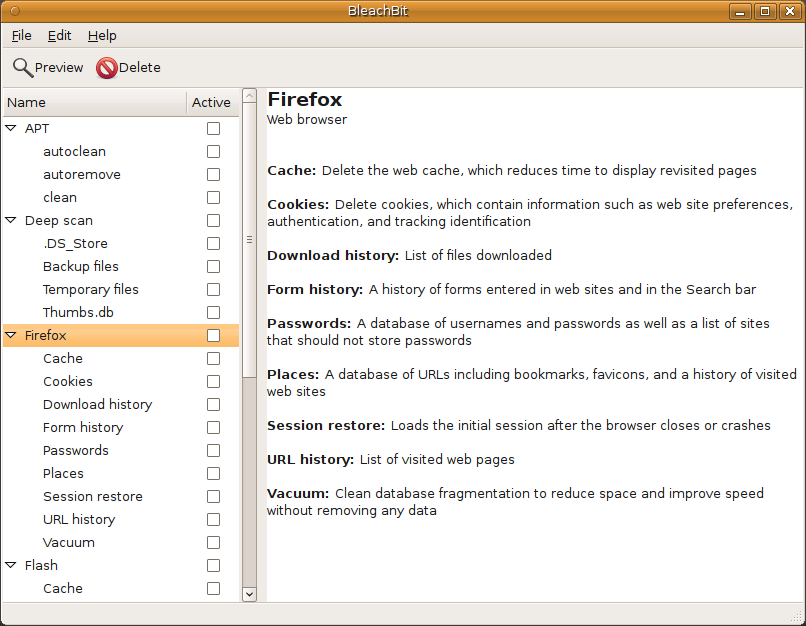 The following changes have been made since 0.7.2:
* Cleans Mozilla Thunderbird versions 2 and 3.
* Specific to Linux
o Clean Screenlets (thanks to MixCool).
* Specific to Windows
o Vacuums more of Firefox
o Fix process detection on Windows XP Home Edition which caused some cleaners (including Firefox) to fail.
o Hide the black "DOS box" on versions editions of Windows.
Translations
* Add Asturian translation thanks to Xuacu Saturio.
* Update Arabic thanks to MaXeR.
* Update Brazilian Portuguese thanks to PresuntoRJ and brenno1ferreira.
* Update Catalan thanks to BennyBeat and David Planella.
* Update Croatian thanks to Miro Glavić.
* Update Dutch thanks to cumulus007.
* Update Hungarian thanks to Gabor Kelemen and Gergely Szarka.
* Update Japanese thanks to Toshiharu Kudoh and Yuki Kodama.
* Update Korean thanks to sungyup nham.
* Update Norwegian Bokmal thanks to Simen Heggestøyl.
* Update Thai thanks to shane.fox.
* Update Turkish thanks to Ufuk Yıldırım and zeugma.
* Update Ukrainian thanks to Сергій Матрунчик (SkyMan).
Download BleachBit 0.7.3 HERE