In the distant future, humanity has spread throughout the solar system, to Mars and beyond. A vast communications network bridges from colony to colony, human to machine, and machine to human.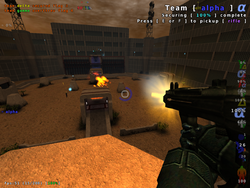 This seemingly benign keystone of modern inter-planetary society, however, appears to be the carrier of a mysterious techno-biological plague. Any persons so-connected seem to fall ill and die, only to return as ravenous, sub-human cannibals. You, a machine intelligence, an android, remain unafflicted by this strange phenomenon and have been tasked with destroying the growing hordes of the infected, while, hopefully, locating and stopping the source of the epidemic.
The different game modes are Deathmatch, Capture the Flag, Secure the Flag and Edit mode, those can be modified by mutators to enable team play (up to 4 different teams), instant death and even paintball.
Avaliable is also an artificial intelligence (A.I. or "Bots") capable of participating within all modes of its deathmatch environment, even online.
For more info click here.
To download click here.