Pidgin is no longer included in Ubuntu 9.10 "Karmic Koala" and is replaced by Empathy.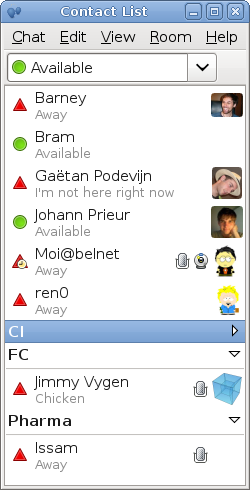 Empathy is the default chat client in current versions of GNOME, making it easier for other GNOME applications to integrate collaboration functionality using Telepathy. Empathy is a messaging program which supports text, voice, and video chat and file transfers over many different protocols. You can tell it about your accounts on all those services and do all your chatting within one application.
Some features:
* Multi-protocol: GoogleTalk (Jabber/XMPP), MSN, IRC, AIM, Facebook, Yahoo!
* Supports all protocols supported by Pidgin.
* File transfer for XMPP, and local networks.
* Voice and video call using SIP, XMPP, Google Talk and MSN.
* Some IRC support.
* Conversation theming (see list of supported Adium themes).
* Sharing and viewing location information.
Empathy can be found in your Internet list (Applications->Internet->Empathy)
How to add account watch a short video HERE