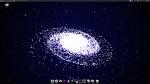 This is a Compiz plugin created by Ilap and it will turn your Desktop background into an live wallpaper. When the plugin is installed you can change some settings (speed, size, position) in your CompizConfig Settings Manager. This plugin is created for Ubuntu 10.10 (Maverick Meerkat) and should NOT work in the previous releases.
To install the Galaxy Live wallpaper plugin open a Terminal window (Applications -> Accessories -> Terminal) and copy+paste the following lines:
sudo add-apt-repository ppa:ilap/lwp
sudo apt-get update
sudo apt-get install compiz-plugins-livewallpapers compizconfig-settings-manager
When installed first change your wallpaper, click with your right mouse button on your desktop and select Change Desktop Background. Click on the Add button and goto File System -> usr -> share -> backgrounds and select Space_by_ilap.jpg. When done open your CompizConfig Settings Manager (press Alt+F2, type ccsm and hit enter). In your Category list click on Live Wallpapers and mark the checkbox to enable the plugin, to make changes to the plugin click on Galaxy Live Wallpaper and play with the settings. Press Super+F4 (the key with the Windows logo) to show or hide the wallpaper plugin. Enjoy the Galaxy Live wallpaper!