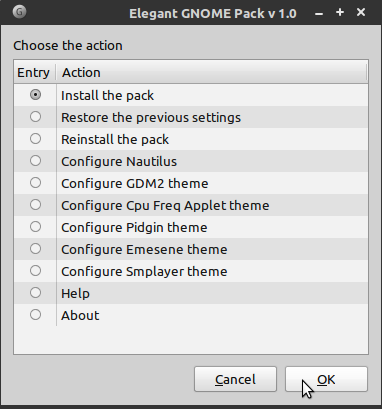 The Elegant Gnome pack is nice but dark GTK+ theme for the GNOME desktop with an easy installation experience. After adding the PPA and installing the Elegant Gnome pack goto Applications -> Accessories -> Elegant Gnome to install the theme or to restore your previous settings.
To install the Elegant Gnome pack open a Terminal window (Applications -> Accessories -> Terminal) and copy+paste the following lines:
sudo add-apt-repository ppa:elegant-gnome/ppa
sudo apt-get update && sudo apt-get upgrade
sudo apt-get install elegant-gnome
When the pack is installed log out and back in again and enjoy the Gnome Elegant Theme pack.