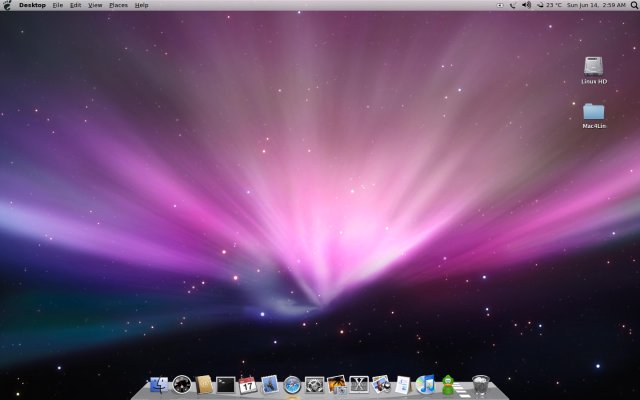 The goal of this project is to bring the look and feel of Mac OSX into Ubuntu 10.10 "Maverick Meerkat". Macbuntu includes a script that makes the installation process quick and easy. This is not a simple GTK+ theme but it completely changes the way Ubuntu looks and works.
To install Macbuntu download the package from SourceForge.net. When downloaded open and extract the file content to your Desktop. Now open the Macbuntu-10.10 folder and double click on the install.sh file and click on Run in Terminal. Answer the questions and wait for the script to finish installing the needed files. When the installation is finished restart your computer and have fun with Macbuntu!!
To uninstall Macbuntu double click on the uninstall.sh file and the Macbuntu files will be removed and your Ubuntu settings will be reverted to default .


Include
* Paw-OSX and Paw-Ubuntu Plymouth themes
* Macbuntu sound theme
* Macbuntu GTK theme based on GTK Leopard
* Macbuntu-Icons based on Mac4Lin and Faenza Icons
* Macbuntu-Cursors based on Shere Khan X
* Mac OS X backgrounds
* Mac OS X fonts
Installation
* Compiz Extras
* Global Menu or Application Menu
* Docky
* Ubuntu-Tweak
* Cheese
Configuration
* Login screen
* Metacity
* Compiz effects
* Window theme
* Backgrounds
* Cursors
* Icons
* Top panel
Featured
* Firefox theme Vfox3_Basic
* Firefox theme MacOSX
* Thunderbird theme Leopard Mail-Default-Aqua
* Chrome theme GTK Leopard Chrome Theme